Who we are?
Dear friends!
We are a team which works in Georgia in tourist sphere.
Having driven all round this marvelous country on our 4x4, we wanted to share this beauty with you.
We have well-equipped cars capable to climb through mountain roads up to the clouds and to cross mountain rivers. Our experience comes from Europe, where we organized tours and competitions on bad roads. But Georgia gives much more possibilities in this direction since most of its territory are mountains. Our cars are not only well-equipped in order to overcome obstacles and bad roads, they are also suitable for comfortable pastime during the tour. We have all necessary staff for this: tents, flea-bags, foam pads, brazier, gas-container, grille, skewers, all dishware. You can stop at any place you like and set up a camp, take a shower there. Cars are equipped with 220, and Wi Fi will let you send information and photos of your trip to your friends immediately. Cozy table and chairs will help you have a rest beside a bonfire, enjoying the sights of mountains. A videorecording is conducted during the trip,the records can be copied to your drive.
And one more important aspect of travelling in a foreign country: our crew and guide, who has huge working experience and deep knowledge about his native country, its traditions, culture and cuisine, will be with you everywhere.
You don't need to worry about your safety on roads, all our drivers are professionals with a huge experience in mountain driving, which is also very important. We constantly improve our knowledge and experience. We study new tracks and mountain roads, in order to be useful not only on roads, but also on track routes, which are included in our tours. We also help in booking places in guest-houses and hotels on our route. After you leave the airport we will solve all questions concerning your rest, the only thing you have to do is to enjoy your rest. We invite everyone who wants to drive the highest and the most beautiful places of Georgia.
Routes
We have individual approach to each guest, create a tour according to wishes, demands and possibilities of everyone who wants to come to us. Usual life sets time borders every day, defines the time-table we have to follow. That's why we give to everybody a possibility to plan his vacation, and we will try to organize it maximally optimal and productive. After you apply for the tour, according to your understanding, interests, timeframe and financial possibilities, we will try to choose a route which satisfies all your demands. We will not stay apart while choosing a route, we will help you in this, according to our experience and possibilities. We will supply you with complete information about all interesting places and objects on your route –highland passes, glaciers, waterfalls, beaches, museums, restaurants, canyons and caves. Have your rest with us in the way you want. We will do everything in order to make you regret only of the lack of time after your visit to this wonderful country of Georgia.
1. Car renting for 3-4 persons with average mileage 250 km per day (calculated for the whole route) with driver and guide is 130 EUR excluding the fuel price. (except for the regions of Tushetі and Khevsureti). The driver's food and accommodation are included in this sum. The fuel consumption is 200 EUR per 1000 km. Driver's work can not be more than 10 hours a day.
2. On the tour start the car is delivered to the client with the full tank (In Tbilisi), fueling by the customer while on trip and must be returned by the client with the full tank (fueled by the client) In Tbilisi. The auto is a cross-country vehicle, with the wheel formula 4x4, axis and wheelsblockings, supplied with winch and snorkel for fords overcoming. Video recording is conducted constantly. The car is equipped with 220V, shower and Wi Fi.
3. Optionally the company provides you with all necessary staff for living under the open sky in mountains, this costs 10 euro per day (foam pad, tent, flea-bag, chair, table, brazier, skewers, gas-container and all dishware).
1. The client should specify the exact date, time and place of arrivalКонец формы for route composing. The application is taken not later than 30 days before the date of the tour start. The application is considered accepted after the client transfers 50% of the tour's price to the company's account.
2. The route is composed depending on where the client wants to go and what he wants to see. Only after this the client is informed about the price of the tour.
3. The payment for the service is provided by the client separately for each day, at the end of the day.
4. If the tour is ordered for more than 5 days, the client gets a pleasant surprise from the company. If the application isn't made due to "Pegasik" rules, the auto can be used only as a rented car with driver, according to existing taxes, without route composing and guide accompaniment, at the discretion of the client (we don't exclude our help in route choice and guide's presence).
Feedback about us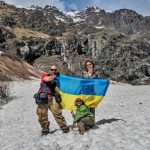 Серега ака Купер, город Киев
Our contract with Yarko costed not more that the price of separately rented car, but in our case we received:
a comfortable and wonderfully equipped car. We passed all bumps and hummocks easily.
a really safe car. "Pegasik" is not a car for rent, it is for work, this instrument should be constantly all right. Definitely not every car for rent can demonstrate such a state as "Pegasik".
a highly experienced driver, who knows complex Georgian roads perfectly, both mountain roads and city roads. Sometimes it is hard to understand where it is harder to drive, in mountains or in city. Georgian driving style is very specific.